Music Review: Keyboard Player Rusty Hall!
Thursday, August 30, 2007



Rusty Hall was born in Peoria Il, on April 15th, 1966. He Grew up the youngest of four siblings to the parent of the Phyliss and Doug Hall Sr, in Peoria Heights, IL. He was first taught to play the piano by his sister debbie at the age of 4. He really took a likening to music. He started off playing the drums in the band, in grade school and high school. After High School He pursed his career as a drummer around the Peoria area. He eventually switched from a drummer to a keyboard player in his mid 20's. The Reason is he started playing with Preston Jackson and they had a great Drummer and everyone knew Rusty could play the Keyboard really well. The Local seen was not enough to help overcome the goal of making it big. He moved to chicago for a while where he became the keyboard player for Lonnie Brooks and that is where it all started.



Rusty is a full time Musician and has toured all over the world with many bands. He has played with the likes of the Legend from Chicago Lonnie Brooks,Buddy Guy, BB King, Curtis Salgado, the blues brothers 2000 band,Johnnie Lang,Koko Taylor,Long John Hunter,Philip Walker, just to name a few. He has co-wrote songs with the likes of Curtis Salgado. He also has appeared on many albums. He was fomerly on the Road with an up and coming star Anthony Gomes. He is currently touring with Bernard Allison, son of blues ledgend Luther Allison.

I think he is really talented and I am proud that he is my uncle. I looked up to him as a big brother. I am glad to see that he is now doing something that he really loves and is having fun doing it. Check out the video of him at the time. There are others out there on You Tube and he also has a my space page. Let me know what you think? Does anyone else out there no anyone that is famous or they consider famous.

May the Force Be with you!!!!


Labels: Anthony Gomes, Bernard Allison, Keyboard, Lonnie Brooks, Rusty Hall
posted by SportsDork36 @ 9:37 AM


Remembering Someone you Lost!
Tuesday, August 28, 2007
Hello Everyone. I have picked one of my favorite speechs from a coaching legend. I feel that his life was cut short by cancer. I lost my Grandpa, who was very special to me, of that deadly disease 10 years ago. Not only was he my grandpa he was my best friend. I spent everyday with him since I was born. We shared a special bond that is has been very hard to replace. I miss him everyday.
The reason I picked this speech is because it reminds me of him and makes me thank god every single day for what I got. If you read this and and live your life like this you will have lived a full life. Is there someone out there that you have lost in the past that is hard for you to get over? Please share how you do it.


"Thank you, Thank you very much. Thank you. That's the lowest I've ever seen Dick Vitale since the owner of the Detroit Pistons called him in and told him he should go into broadcasting.

I can't tell you what an honor it is, to even be mentioned in the same breath with Arthur Ashe. This is something I certainly will treasure forever. But, as it was said on the tape, and I also don't have one of those things going with the cue cards, so I'm going to speak longer than anybody else has spoken tonight. That's the way it goes. Time is very precious to me. I don't know how much I have left and I have some things that I would like to say. Hopefully, at the end, I will have said something that will be important to other people too.

But, I can't help it. Now I'm fighting cancer, everybody knows that. People ask me all the time about how you go through your life and how's your day, and nothing is changed for me. As Dick said, I'm a very emotional and passionate man. I can't help it. That's being the son of Rocco and Angelina Valvano. It comes with the territory. We hug, we kiss, we love. When people say to me how do you get through life or each day, it's the same thing. To me, there are three things we all should do every day. We should do this every day of our lives. Number one is laugh. You should laugh every day. Number two is think. You should spend some time in thought. Number three is, you should have your emotions moved to tears, could be happiness or joy. But think about it. If you laugh, you think, and you cry, that's a full day. That's a heck of a day. You do that seven days a week, you're going to have something special.

I rode on the plane up today with Mike Krzyzewski, my good friend and wonderful coach. People don't realize he's ten times a better person than he is a coach, and we know he's a great coach. He's meant a lot to me in these last five or six months with my battle. But when I look at Mike, I think, we competed against each other as players. I coached against him for fifteen years, and I always have to think about what's important in life to me are these three things. Where you started, where you are and where you're going to be. Those are the three things that I try to do every day. When I think about getting up and giving a speech, I can't help it. I have to remember the first speech I ever gave.
I was coaching at Rutgers University, that was my first job, oh that's wonderful (reaction to applause), and I was the freshman coach. That's when freshmen played on freshman teams, and I was so fired up about my first job. I see Lou Holtz here. Coach Holtz, who doesn't like the very first job you had? The very first time you stood in the locker room to give a pep talk. That's a special place, the locker room, for a coach to give a talk. So my idol as a coach was Vince Lombardi, and I read this book called "Commitment To Excellence" by Vince Lombardi. And in the book, Lombardi talked about the fist time he spoke before his Green Bay Packers team in the locker room, and they were perennial losers. I'm reading this and Lombardi said he was thinking should it be a long talk, or a short talk? But he wanted it to be emotional, so it would be brief. So here's what I did. Normally you get in the locker room, I don't know, twenty-five minutes, a half hour before the team takes the field, you do your little x and o's, and then you give the great Knute Rockne talk. We all do. Speech number eight-four. You pull them right out, you get ready. You get your squad ready. Well, this is the first one I ever gave and I read this thing. Lombardi, what he said was he didn't go in, he waited. His team wondering, where is he? Where is this great coach? He's not there. Ten minutes he's still not there. Three minutes before they could take the field Lombardi comes in, bangs the door open, and I think you all remember what great presence he had, great presence. He walked in and he walked back and forth, like this, just walked, staring at the players. He said, "All eyes on me." I'm reading this in this book. I'm getting this picture of Lombardi before his first game and he said "Gentlemen, we will be successful this year, if you can focus on three things, and three things only. Your family, your religion and the Green Bay Packers." They knocked the walls down and the rest was history. I said, that's beautiful. I'm going to do that. Your family, your religion and Rutgers basketball. That's it. I had it. Listen, I'm twenty-one years old. The kids I'm coaching are nineteen, and I'm going to be the greatest coach in the world, the next Lombardi. I'm practicing outside of the locker room and the managers tell me you got to go in. Not yet, not yet, family, religion, Rutgers Basketball. All eyes on me. I got it, I got it. Then finally he said, three minutes, I said fine. True story. I go to knock the doors open just like Lombardi. Boom! They don't open. I almost broke my arm. Now I was down, the players were looking. Help the coach out, help him out. Now I did like Lombardi, I walked back and forth, and I was going like that with my arm getting the feeling back in it. Finally I said, "Gentlemen, all eyes on me." These kids wanted to play, they're nineteen. "Let's go," I said. "Gentlemen, we'll be successful this year if you can focus on three things, and three things only. Your family, your religion and the Green Bay Packers," I told them. I did that. I remember that. I remember where I came from.

It's so important to know where you are. I know where I am right now. How do you go from where you are to where you want to be? I think you have to have an enthusiasm for life. You have to have a dream, a goal. You have to be willing to work for it.

I talked about my family, my family's so important. People think I have courage. The courage in my family are my wife Pam, my three daughters, here, Nicole, Jamie, LeeAnn, my mom, who's right here too. That screen is flashing up there thirty seconds like I care about that screen right now, huh? I got tumors all over my body. I'm worried about some guy in the back going thirty seconds? You got a lot, hey va fa napoli, buddy. You got a lot.

I just got one last thing, I urge all of you, all of you, to enjoy your life, the precious moments you have. To spend each day with some laughter and some thought, to get you're emotions going. To be enthusiastic every day and as Ralph Waldo Emerson said, "Nothing great could be accomplished without enthusiasm," to keep your dreams alive in spite of problems whatever you have. The ability to be able to work hard for your dreams to come true, to become a reality.

Now I look at where I am now and I know what I want to do. What I would like to be able to do is spend whatever time I have left and to give, and maybe, some hope to others. Arthur Ashe Foundation is a wonderful thing, and AIDS, the amount of money pouring in for AIDS is not enough, but is significant. But if I told you it's ten times the amount that goes in for cancer research. I also told you that five hundred thousand people will die this year of cancer. I also tell you that one in every four will be afflicted with this disease, and yet somehow, we seem to have put it in a little bit of the background. I want to bring it back on the front table. We need your help. I need your help. We need money for research. It may not save my life. It may save my children's lives. It may save someone you love. And ESPN has been so kind to support me in this endeavor and allow me to announce tonight, that with ESPN's support, which means what? Their money and their dollars and they're helping me-we are starting the Jimmy V Foundation for Cancer Research. And it's motto is "Don't give up, don't ever give up." That's what I'm going to try to do every minute that I have left. I will thank God for the day and the moment I have. If you see me, smile and give me a hug. That's important to me too. But try if you can to support, whether it's AIDS or the cancer foundation, so that someone else might survive, might prosper and might actually be cured of this dreaded disease. I can't thank ESPN enough for allowing this to happen. I'm going to work as hard as I can for cancer research and hopefully, maybe, we'll have some cures and some breakthroughs. I'd like to think, I'm going to fight my brains out to be back here again next year for the Arthur Ashe recipient. I want to give it next year!

I know, I gotta go, I gotta go, and I got one last thing and I said it before, and I want to say it again. Cancer can take away all my physical abilities. It cannot touch my mind, it cannot touch my heart and it cannot touch my soul. And those three things are going to carry on forever."

"I thank you and God bless you all."
Spoken by
Jim Valvano
March 4, 1993


May the force be with you!!!!!

Labels: coaches, Jim Valvano, NCAA Basketball
posted by SportsDork36 @ 12:45 PM


Get me 2 Pairs!!!!!!!
Saturday, August 25, 2007

OK I know what you were all thinking when you seen the title. You were probabaly thinking that I was writing about nelly song "Air Force Ones". Um No I am not a talking music. I want two pairs of any JORDANS. Now your probably asking yourself why would he want 2 pairs. Well as you all know that I am Michael Jordan's biggest fan, so I would have one pair to wear and one to go on the shelf so that I can put it in my jordan trophy case that I will have one day.But that is a different topic to write about. Back on the Subject which pair would I really want? The Picture at the top is the one I want really bad. That pair is the the jordan 12. the reason I want this is it was the best looking of all of his shoes. It was the one that really caught my eye. Now that I have let you know which ones I wanted. Feel free to comment me back which pair you all like? It does not have to be Jordan's either. Let me know what is your favorite Shoe?

May the Force be with you.

Labels: Basketball, Jordans, Nike
posted by SportsDork36 @ 7:23 PM


Competition Good or Bad?
Competition Good or Bad.

Competition-
1. The act of competing, as for profit or a prize; rivalry.
2. A test of skill or ability; a contest.
3. Rivalry between two or more businesses striving for the same customer or market.

As I sit here to try to think of another issue to write about, I began to ask myself what is competition? The reason I was wondering is because I was reading a couple other blogs about how families compete/friends compete against each with Christmas and birthdays and other things. This reminds me of the Gatorade commercial to the Song anything you can do I can do better. It drives me insane. In today's society everything that is seen is about out doing someone else. It makes me sick. People cannot just set down and have fun anymore. There always has to be about how I am going to out do you. This is also the case with the athletes today. Michael Jordan had a drive to compete so much he would make bets on golf games, to gambling in the casinos to help that edge. Mike Vick went as far as running a Dog fighting group to desire his edge. Check on my feeling to Mick Vick in a previous Post Mike Vick Jail Bird instead of Dirty Bird. What does this tell today's youth? Does this tell them do anything you can to win at what you are doing no matter who gets hurt. I don't think so competition should be for fun. It should show kids that you can achieve what you want if you compete hard and give your best. Everyone should be showed how to make competition fun. If your are not having fun than it is not worth it.

In closing Competition can be fun if you make it that way. I myself like to compete at a high level. But I don't get out of control and let it get the best of me. I think that if anyone should teach the youth good competition it should come from there parents. If there parents don't know or are bad losers that it will reflect the outcome of there child. Like I said if you are competing remember it is just a game and when it is all said and done no body is Perfect. Until Next time.

May the force be with you!

Labels: athletes edge., family competition
posted by SportsDork36 @ 6:45 PM


MY Fantasy Team
Hello everyone out there. My Football fantasy draft was today. I had mine set to auto pick. I actually have a have way good team. I am also playing in a different style league. I will keep you posted on how I do. I will also go an get into a league on NFL.com or Yahoo.com I really have not decided yet. If anyway is looking for someone let me know.

Ok for my team:

QB Ben Roethlisberger
QB Rex Grossman
RB Willie Parker
RB Vernand Morency
WR Randy Moss
WR Hines Ward
WR Terry Glenn
WR Calvin Johnson
TE LJ Smith
TE Heath Miller
R/W Chris Chambers
R/W Bernard Berrian
W/T Rod Smith
W/T Reggies Willams
BN RB Anthony Thomas
BN RB DEDE Dorsey
BN WR Anthony Gonzalaz
BN RB Mike Turner
BN QB Joey Harrington
BN RN Mike Bell
PK Jason Elam
Defense
DL Casey Hampton
DL Adam Carriker
LB Patrick Willis
LB Joey Porter
LB Lawrence Timmons
DB Hamza Abdullah
DB Mike Adams
IDP Paul Posluszny
IDP Anothy Spencer

My First game is against Uneccesary Roughness. I am not to worried about the first game. once I know what is going on I should donminate. Let me know what you think of my team and where I could change things. Also Check back I will let you know how I did in the Game and who My Prime Time Players were for the week.

Labels: Fantasy Football, Fox Fantasy Football, NFL
posted by SportsDork36 @ 3:56 PM


College Football Ranks
Thursday, August 23, 2007
College Football will be starting over the weekend. I have decided that I am going to post the AP top 10 and the Coaches top 10. I would like to get your thoughs and feels on the teams in the top 10 and who should be there and who shouldn't.

AP Top 10
1. USC (45)
2. LSU (2)
3. West Virgina (1)
4. Texas
5. Michigan
6. Florida
7. Wisconsin
8. Oklahoma
9. Virgina Tech
10. Louisville
Coaches Top 10
1. USC (45)
2. LSU (4)
3. Florida (9)
4. Texas
5. Michigan (2)
6. West Virginia
7. Wisconsin
8. Oklahoma
9. Virgina Tech
10. Ohio State.

No Notre Dame, No Nebraska and Florida defending national champ NOT number 1 this is absolutly crazy. I feel Florida should still be number 1 until that get beat. I think Notre Dame has a better team than everyone thinks. 3 big tens teams. Ok that is why they play the game. Any thoughts of who you think will be the number one team. What are thoughts on the polls.
posted by SportsDork36 @ 12:48 PM


MLB Thoughts and My Opinions.

Baseball coming down to the final month of season and this is where it gets interesting. There are still lots of questions that I am asking my can the Cubs win the NL Central? Can the Yankees catch the Red Sox? How does a team lose 30 to 3. I don't ask myself that every year but after seeing that score I thought I would throw that in. I also like to think who is going to win MVP and CY Young of both Leagues. Who is going to win the gold gloves? I know I wonder about a lot, but that is what makes this time of the year fun. Baseball is such a long season so for me I think the season really begins after the all-star break. The reason this is when the races get fun. The trade deadline is upon us and teams are trying to get other teams better players to make a solid run at the World Series.

As you can see there is two divisions that I am mainly following the AL East. Because the New York Yankees are my team. And the NL Central and the reason is being from Illinois and already stating wait until next year with the Cubs, they have come back to surprise me. Even though I am a Yankee fan I would like to see the Cubs finally break the curse and make it to the World Series and win it this year. Now that I have given you my thoughts it is time for another survey. Who are your team or teams that you think can make it to the playoff and in turn who will win the world series? Below I have listed the Odds of the teams winning the world series. You can also put in there who you think will be this years MVP for both League's. I am going to throw one name in the hat. Barry Bonds NL MVP. You ask why because he is still putting up extraordinary number for someone that is in there 40's.

These betting odds and more can be found at Sportsbook.com.
Arizona Diamondbacks 30-1
Atlanta Braves 15-1
Baltimore Orioles 100-1
Boston Red Sox 6-1
Chicago Cubs 12-1
Chicago White Sox 35-1
Cincinnati Reds 50-1
Cleveland Indians 15-1
Colorado Rockies 50-1
Detroit Tigers 12-1
Florida Marlins 30-1
Houston Astros 60-1
Kansas City Royals 300-1
Los Angeles Angels 9-1
Los Angeles Dodgers 13-1
Milwaukee Brewers 30-1
Minnesota Twins 18-1
New York Mets 6-1
New York Yankees 11-2
Oakland Athletics 25-1
Philadelphia Phillies 25-1
Pittsburgh Pirates 100-1
San Diego Padres 20-1
San Francisco Giants 100-1
Seattle Mariners 80-1
St. Louis Cardinals 15-1
Tampa Bay Devil Rays 300-1
Texas Rangers 50-1
Toronto Blue Jays 25-1
Washington Nationals 1000-1
posted by SportsDork36 @ 9:02 AM


Who's my baby's daddy?!?!?!
Saturday, August 18, 2007
Montell Williams, Jerry Springer and my personal favorite Maury Povich, NOT!! I am never home during the day, so I don't get the pleasure to view these wonderful shows, thank god, but when I am home, I happen to catch Maury, and is all he has "Who is my baby's daddy?" Are these people just actors? Or are they serious? I can not imagine, going on live TV and letting everyone know my business, how embarrassing! What is wrong with them? Do they have no morals? What great shows for our children and teens to be brought up on. I really can not stand TV anymore. Talk shows, realty TV, all of it. What ever happened to The Wonder Years? Why do we not have shows like that anymore? A good family show. I have no desire to watch this crap they call TV and I am tired of them making money off of it.

What are your thoughts and opinions?
Labels: Jerry Springer, Maury Povich, Montell Williams, talk show
posted by SportsDork36 @ 11:15 PM


Saying goodbye to Hollywood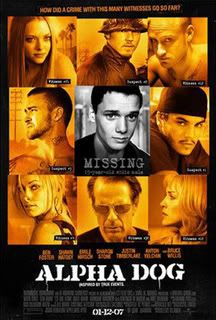 For those of you who have not seen the movie "Alpha Dog" you must rent it. It shows how far some kids will go to be apart of a group. This is a true story and has an excellent cast. Bruce Willis, Sharon Stone, Justin Timberlake and Emile Hirsch do a great job. And surprisingly, Mr. Timberlake himself, is an awesome actor.

Jesse James Hollywood, grew up a good kid and an athlete. His father was the coach of a little league, but also had a side business, selling drugs, which his son, soon followed. At the age of 19, Hollywood, purchased his own $200,000 home with a large cash down payment, owned many expensive cars, and yet had no job. He was a major drug dealer. Hollywood gave his friends pot and had them sell it to the surrounding area and return the profit to him. If they turned up short there would be hell to pay. His crew did whatever he wanted, he was the ring leader, he was the center of their universe, but, Ben Markowitz, wasn't having it. Ben was the "real" bad boy unlike Jesse James Hollywood who was just a wanna be bad boy. Ben came up short 1200 bucks and Hollywood picked a fight. That set of a string of events that changed a lot of peoples lives. Ben and Hollywood went back and forth trashing each others places, fighting, etc, and Hollywood really wanted to put Ben in his place and put an end to it all and show him up. Hollywood and his crew were driving around and seen Ben's younger 15 year old brother walking down the street (he had nothing to do with the drug deal, and had no clue who Hollywood was), so Hollywood and his crew decided to go deeper than Ben and jumped out of the van and beat the crap out of his younger brother and kidnapped him. About a day into the kidnapping, Hollywood got nervous and took off. He left the kid, Nick, with his crew. His crew untied him, Nick was actually enjoying himself, he was partying, playing video games, he met a girl, he had nothing to worry about. The crew kept reassuring him, all his brother had to do was pay the $1200 dollars and he would be free. In the mean time, Hollywood contacted his lawyer, and got the bad news of just how much trouble he was going to be in for kidnapping a kid, by that time, everyone was already looking for Nick. He realized, that he could get longer for kidnapping, than he could for murder. And even if he did let the kid go, how would he keep the kid from talking? He soon made a new plot for his friends, to kill the kid off. Do his friends go through with it?..........I will leave that part a mystery.......

This movie showed how events spiral out of control. It really does happen pretty much step by step (in reality), if you were to do the research on it. What I don't understand is why kids and in this case young adults (20's) feel the need that badly to fit into a crowd? To go as far as kidnapping? And even considering killing someone? Can someone have that much effect on you? And for Nick Markowitz, why would he stay in a situation like that for so long? Was it because he was with the "cool" crowd? I am not really sure if I have put myself into any situations, where I know the outcome would be bad. But I sure in the hell would not of gone this far.

If you are wondering why I titled this blog, "Saying goodbye to Hollywood", at the end of the moving there was a song, "say goodbye to hollywood." And to me it just kind of meant, leave it all behind. No more peer pressure, who cares what everyone else wants. Maybe that is what these kids should have done.

Have you seen the movie? If so what do you think? If you haven't seen it, what do you think, just by reading the blog?
posted by SportsDork36 @ 9:51 PM


Mike Vick Jail Bird instead of Dirty Bird!
When Mike Vick came into the League I felt that he was going to change the way football is played. He could do it all, he had the skills to run the ball or pass the ball. He could even catch really well. He was the next up and coming star. He was going to take what ever team that drafted him. He was the first pick of the San Diego Chargers and later traded to the Atlanta Falcons. He did become an instant star in Atlanta. He has taken the team to the NFC Championship game and probably would of led them to a Super bowl title until he got himself into trouble. He let the money and fame get to him and felt that he could do no wrong. Unannounced to the public he had a house in Virginia that he was using for gambling rings. Not just your typical card game gambling rings but one that involved dog fights. These dogs would be trained to fight each other to death. This was going on for a couple of years with the public knowing. HE was running the ring under the business name Bad News Kennels. From what I have seen Vick stated that it was family and friends that were running this he had no idea what was going, even though this house and land was his. He did sell the house before the feds searched it. After the search of the house the Feds charge Vick with cruelty to animals, which could be bad for him since he could be facing 5 years to life in prison. Some of the charges that were brought against him where killing the dogs, by hanging, electrocution, and throwing the dogs on the ground and beating them to death because the were useless to them. They are also charged with tying them close together, feeding them gun powder to make the mean and read to kill. It was also said that they found lots of dogs in a grave that was dug up on the land and a lot of them were registered to one Mike Vick. I know a lot of people that look up to him. With the circumstances that have came about this is not a good role model for children. If they let him go free this will show that it is ok to treat animals bad. I think that it is great that the NFL is looking into suspending him and also he was told to stay away from training camp. A lot of his sponsors are not going to stand by him either. I have heard that Nike is not going to put his signature shoe up for sale. I think that is good because he does not need to be making money if he is guilt. I hope they ban him from the league and not allow him to collect his money. Would love to get your opinions.



May the Force be with you!

Sportsdork36
Labels: Atlanta Falcons, Dog Fighting, Mick Vick, NFL
posted by SportsDork36 @ 12:14 PM


Chat Slang.
Friday, August 17, 2007
I was out reading a couple of bullitens on My Space and there was OBTW and I was unsure what in the world they were talking about. I thought it may be a new word the younger generation was coming up with. So I started to do some looking and found out it stands for Oh By The Way. I would of never gotten that. What has gotten into the kids today? When I was growing up it was Cool or check ya later. Now you see commercials on tv were the daughter is talking to her MOM and is saying I was talking to my BFF. To me I would be telling my Son or Daughters to speak in Correct english not Computer talk. This shows that I am getting old becuase I am not in to what is cool anymore. I was talking to my sister and her friends a couple of weeks ago and she called me a balla. Which to me meant I could play ball with the best of them. NO come to find out that the meaning of there word has changed and it means you are not cool. WTF? I know I am using it too but the kids today do not have a freakin clue on the english language. They are using what is called Ebonics. Which is street words or slang talk. I really am not that old so I know what words are still in but what is up with all the changing. I know every generation goes through it.I know this seems like I am complaining but I dont want to get 10 years down the line and go to the store and someone say to me WC for Welcome. Is that what the world is coming too. I really hope not cause that shows that are students are learning in english classes in school. I want to get the thoughts and feels of all of you out there.

May the force be with you.

Sportsdork36.
posted by SportsDork36 @ 8:15 PM


NFL My PIck's for the upcoming season.
Tuesday, August 14, 2007
AFC
North
Teams Wins Loses
**Pittsburgh 12 - 4
*Baltimore 11 - 5
Clevland 9 - 7
Cincinnati 8 - 8

Reasons: Not just because I am a steelers fan am I picking them to win the North. I think out of all 4 teams they have the best all around team. I do think that Baltimore is going to give them a run for there money. Clevland is going to have a good ball club but they are young at QB again and that will hurt them. Cincinnati has lost to much to the criminal court system.

East
Teams Wins Loses
**New England 13 - 3
New York 11 - 5
Buffalo 10 - 6
Miami 7 - 9

Reasons: New England is Loaded. I think they now have the offensive that is going to score a lot of points. there defense is always good. New York has a ok running game and defense but they have some weak points at wide reciever. Buffalo all the pices on defense are young but they may surprise some teams. Miami doesnt have a thing they are too old.
South
Teams Wins Loses
**Tennessee 12 - 4
*Indianpolis 12 - 4
Jacksonville 6 - 10
Houston 5 - 11

Reasons:This division will be one of the best in Football. I think Tennesse is still young but there coach is really good and they have the rit fit on offense and defense. Indianpois will make back to the playoffs but they wont go far defense is weak. Jacksonville does not have a great QB that stay's health. Houston is still a year or two off from being a great team.
East
Teams Wins Loses
**San Diego 12 - 4
Denver 9 - 7
Kansas City 6 - 10
Oakland 5 - 11

Reasons: San Diego is everyone's pick to go to the Super Bowl. They are returning alot of great players. But, they have a new coach that could play a factor. Denver is going to be strong but they are getting old and don't have a great running game. Kansas City is in Disarray at QB and they defense is questionable. Oakland is just to old they have another year of rebuilding.

NFC
North
Teams Wins Loses
**Chicago 12 - 4
*Green Bay 11 - 5
Detriot 9 - 7
Minnesota 4 - 12

Reasons: The Bears are bringing Everybody back and the only weak position is running back if cedric Benson gets hurt. Green bay will have a good team but they do not have a running game and there Offensive line is questionable. Detriot no reliablity at QB and there weak on defense. Minnesota has lots of questions on both sides of the ball.

East
Teams Wins Loses
**Philly 12 - 4
*New York 11 - 5
Washington 6 - 10
Dallas 7 - 9

Reasons: If McNabb stays health they could end up representing the NFC in the Superbowl. There defense is good and they have great weapons on offense. The Giants have to the pieces but are questionable on the defense line and running game. Washington is my sleeper, they are a young team. Dallas is old and the only thing that got going for them is Tony Romo.

South
Teams Wins Loses
**New Orleans 13 - 3
Carolina 11 - 5
Tampa Bay 5 - 11
Atlanta 3 - 10

Reasons: New Orleans has a one two punch at running back and there defense is weak. Carolina is a good team but they are getting older they could surprise some people. Tampa Bay has a good defense but they are going to be hurting on offense with Garica as there QB. Then there is Atlanta. Were do I start. New Coach, No Mike Vick and Joey Harrington at QB do I say more.

West
Teams Wins Loses
**San Fran 11 - 5
Arizona 11 - 5
St Louis 5 - 11
Seattle 4 - 12

Reasons: San Fran is going to be riding on the tails of the death of Bill Walsh. I think they will have success this year. They are young but they could surprinse some teams. Arizona is weak on defense but they have a great offense with a good coach that should take them to a good record. St Louis is going to be in rebuilding mood I feel and it is going to take some time to get back to being great. Seattle will be hit with the injury bug I feel.


Superbowl.
New England Vs. Philly

Champ: New England. MVP Randy Moss Super Bowl MVP Tom Brady.
posted by SportsDork36 @ 1:00 PM


Space Travel.
Sunday, August 12, 2007
With the news of the teacher going up into space and final making I am ready to pose a Survey question out there to all you Sportsdirty Fans. I want to know if you had a chance to go up into space would you go? Why or Why not? and if you would would you want to go to a paticular planet?Why?

If anybody is wondering Yes I would go I would really like to go do a moon walk. I think it would be fun. The reason is I have always loved learning about the stars and the planets and space ships I would love to experience it.
posted by SportsDork36 @ 7:39 PM


NCAA Top 10 preseason Heisman Picks.
The NCAA Football season starts here in a couple weeks so I decide to go out and do some research and see were players are rank to be this years College Football Heisman. I started with www.msnbc.com and found this list of the top ten players.
1. John David Booty, USC
2. Darren McFadden, Arkansas
3. Steve Slaton, West Virginia
4. Colt Brennan, Hawaii
5. Ray Rice, Rutgers
6. Brian Brohm, Louisville
7. Mike Hart, Michigan
8. Pat White, West Virginia
9. Tim Tebow, Florida
10. Jonathan Stewart, Oregon

I know what you are asking your self. Who does the sportsdork think is going to win? For me it is too early to tell. I will have to do more research on it and watch a couple of games and I will let you know.

Labels: College Football, Heisman, QB, RB, WR
posted by SportsDork36 @ 10:49 AM


Star Wars: Business World theory!

As I watched Stars Wars the Revenge of the Sith for the 100th time last week with my son, I got to thinking on how the movie is like the working world of today. I just think that the movie, even from the Return of the Sith to Revenge mirrors what is going on in everyday life. Anakin for example in the first movie is the person just entering the work world with the fear, that leads to anger, that leads to hate, that leads to suffering, that leads to the dark side of the force. The Jedi Council are considers the co workers that have been there forever and are trying everything they can to better the workers around them. The Emperor aka the sith lord is Head supervisor and his apprentice would be anyone that would agree with his ways and help implement them. He is one that would do anything for the emperor so that he could get ahead.

So Anakin starts out at the company Slacker Productions. In the first couple of weeks he shows that he could be going places fast. He has a thing for learning and picking up the way things work fast. But, he still has the fear in him that everybody is out to get him. After about 3 months of work he gets new hours and start to work with a team that is the best of the best and all are team players, work hard at there jobs and love what they do. The team brings him in as one of there own, but there is one member that just doesn't feel something right about young Anakin. He says that he feels fear in him, meaning that he feels that young a Anakin is ahead of the game, but is not willing to take the bull by the horns and go with it. He has become a little of a follower. He as thinks that young Anakin can be easily persuaded.

As time goes on Anakin fits in to this team well and he learns the ways of the business, aka the force and is up for a promotion. Anakin goes in front of his team and they ask him to sell himself. He sells it well and is a few points off of were he needs to be. What he lakes is responsibility, in turn if he breaks something he is always fast to not own up to his mistakes in fear that it will not get him were he wants to be. So his team decided not to make him a master and has another project for him. This project is only to be done by masters, but since young Anakin has become of favorite of his supervisor they think he could report back them his wrong doing's so that they can go above his head and get new leadership in, because there has be issues going on for a long time that they tried to get made right, but were punished. Even though this team is the strong team and is working really will together and get things done, there boss's always held it against them and used threat because they got along so good.

Anakin accepts the job of trying to find out what is going on with the supervisor and what he is going to do next. But, Anakin slips and tells him what they wanted him to do and the boss turns and tells him of the plans to weed each one of them out one by one anyway he could. He let them know that if he helped them out he would become a strong asset to the company. The supervisor lets Anakin know that if he helps them he could become the head supervisor of that team and they could go on and make the department one big team no side teams and they would make the place better. Anakin went and let his team lead Mace know what was going down. Mace told Anakin to stay in his office he would be right back. Anakin did not listen and the deal was already on the table. The head supervisor had been named director and as Mace walked in the room fired him on the spot and as Anakin walked in the room he the new supervisor of that department. The new director had now has fired everybody except 3 people from that team. One because he was just about to retire so he moved him to manager of receiving the other because he had family that worked in different departments that were also directors. So he moved him to mail room clerk. He also made that department one big department and Anakin was the Head Supervisor. Ob-1 and Anakin did get into before Ob-1 went to the mail room OB-1 took away all the ideas and plans that they had on paper and never told Anakin about the plans.

As you can see I have made up a star wars theory from the really business world. There is no truth to the plot it was an example that I have come up with. This is were I pose the question to all my readers out there. Can the Star Wars" Theory work in the world of Sport? Such as the NBA, NFL or even the MLB. I would like your thoughts and comments.

May the force be with you

Sportsdork36.

Labels: business, Darth Vader, Emperor, Jedi, star wars, Yoda
posted by SportsDork36 @ 9:41 AM


Changes Changes Changes
Thursday, August 9, 2007
Hello all. If it seems that my site has been funny today. I have been making changes to it. I was trying to figure out the code for myself. I will be doing updates from time to time. But Let me know what you think.Let me know what I can do to make it better.

May the Force be with you!

Sportsdork36.
posted by SportsDork36 @ 2:35 PM


NCAA Football
Wednesday, August 8, 2007
With the College Football Season starting here in a couple weeks it is time to talk about my thoughts and feeling on college football. First of all I think it is ridiculous that they do not have a playoff system to pick there National Champ. I think it is unfair to teams that go undefeated throughout the year never get a chance to prove themselves against the best teams. I feel it is time to go to a playoff system. Take all the bowl games and combined them into brackets. Or even take the top 8 teams in the bcs and pair them together. They could play the games in a 3 week span and still have the last bowl game. They may even make more money cause they will have the best teams pair off against each other. To make it work correctly they could also take all the top undefeated division 1 teams and put them in and if there is more than four have another way of determining who gets in.

Now that I have give my thoughts on the way the pick a NCAA Champion I want to give you my pick of the top teams I think will be fun to watch.

1. Notre Dame
2. USC
3. North Carolina
4. South Carolina
5. LSU

May the force be with you!

Sportdork36
posted by SportsDork36 @ 7:12 AM


Baby Einsteins
Hello all I was reading an article on www.Cnn.com about Baby Einsteins slowing down the development of a kids talking. I would have to disagree. I think it is really up to the baby when they feel they are going to talk if they don't want to say anything they won't. I found Baby Einsteins as a way to relax and calm the kid down when they were crying. I have also found that kids really to repeat some of the actions on the movies. I think the shows help the kids with colors and shapes. I would much rather have my kids watching the educational shows instead of some of the cartoons that are on promoting Violence. I really do think Baby Einstein helps the kids with understanding thing. Plus they get a chance to be introduced to music that they may never have gotten introduced to in there life time.

May the force be with you!

Sportsdork36


posted by SportsDork36 @ 7:00 AM


FANTASY Football League
Saturday, August 4, 2007
I have joined a league and we are looking for one more team to sign up. If you want to get in Send me reply or reply to my email it is on the my page.

May the force be with you.

SportsDork36
posted by SportsDork36 @ 10:01 PM


1990's songs of summer
Thursday, August 2, 2007
What were some of your favorite songs growing up in the 90's? What did you and your friends sit around and listen to on those hot summer days or nights? Or at your parties? Here are a few that I can remember:

1. Summertime~ Jazzy Jeff and the Fresh Prince Summer of 91
2. Whoop there it is~ Tag Team, 94
3. Woof Woof~ Snoop, 98

May the force be with you, SportsDork36
posted by SportsDork36 @ 8:42 PM


Summer Time Fun!
Tonight I sat and watch my wonderful kids run through the sprinkler on this hot summer day. So of course, I got to reminiscing on my childhood days of what I enjoyed to do. I loved playing with the whiffle ball bat, swimming in the creek, riding my bike. As I got to the early teen years, I got more into the video games, but I still was mainly out on my bike or played a lot of sports outside. What were some of your favorite childhood memories as a kid??

May the force be with you, SportsDork
posted by SportsDork36 @ 8:38 PM


Boxing
As I sit watching a fight on the boob tube I got to thinking, is there really any good fights anymore? I really don't think there is? Shane Mosley and Oscar Delahoya could be consider greats, but they are not heavy weights. Roy Joy Jr, fought heavy weights, but he was a pretender and in my opinion can not really be considered a "true heavy weight." I grew up watching Mike Tyson, but I would of loved to see Joe Frazier and Mohammad Ali in their prime. What would be your dream fight you would love to see?

May the force be with you, SportsDork
posted by SportsDork36 @ 8:33 PM


99 years will the Drought End
With the Chicago Cubs becoming tied for first place last night is this the year that the CUBS finally win the world series. I know that there is still 2 months left in the season but they have been playing outstanding. I think Lou Pinella is the greatest thing that has happened to them. He knows how to use his pitching staff and he keeps playing players when they are hitting the ball. Even though I think they should of picked up one more starting pitcher the do have plenty of young arms to handle the pitching. I also feel the are a more complete all around team that can win without hitting the long ball. The only thing that I fear is when they make it to the world series is they will have to play the Yankees. But if they play anyone else the curse will be broken.

May the force be with you.
posted by SportsDork36 @ 9:29 AM


Brown Nosing...What???
Wednesday, August 1, 2007
"The vast majority of people we call brown-nosers are people who are actually good at their jobs and simply happen to be very good communicators - better than the rest of us."

Hmmmm....I was reading a magazine and came across this line, and I must say, I love it. Hehe. Once apon a time I played the laid back role, the I dont care, I am just going to do my work and nothing more and thats that. Where did it get me? A whole lot of no where! Then I noticed, once I started to speak up more, and voice my opinions, I got noticed more. I got taken more seriously. Now people come to me for questions, I am being included in more, and now I have met many new people that no matter where I go in my career may be able to help me, just because I was nice and helped them. So because I, speak up, voice my opinions, talk to people, I, SportsDork, am a Brown Noser. Yep, thats me! Thats what you get when you try to better yourself, not only for your career, but for your family you take care of.

I do not think that is brown nosing. I found this website of what I think brown nosing is. Its rather funny. If you dont want to go to the website here are what it lists, what a true brown noser does: buys alcohol for the boss, buys sporting tickets for the boss, invites the boss outs, etc.
http://www.redtractor-usa.com/Columnist.htm

So...Any experiences in brownosers at work? Are you one yourself? Lets see what kind of crap I get for posting this one, LOLOLOL

May the force be with you SportsDork36
posted by SportsDork36 @ 10:05 PM


President Bush
Off the subject of sports for a while. I am not really into politics, I do follow it once in a while. I am not a big fan of Bush, but like I said, I do not follow the subject. Every time people get on the topic it always get heated. You have the people who hate Bush and then the people who love Bush and call you un American if you dont follow him.

So basically, with this post, I want to know:

If you are a fan of Bush, what has he done for this country? What has he done to make our lives easier? Safer? (Besides the fact of catching Saddam, when he should be catching Bin Laden)

If you are not a fan of Bush, what do you think of him? Is he to blame for the gas prices? Should he of been able to give himself a raise to 400K a year??

This post is not an arguement, just to get peoples opinions, I am really interested on the subject, and am really curious why people think he is so great. Not that he can ever run again, but maybe it could make me change my mind, haha, ya right.
posted by SportsDork36 @ 9:32 PM


NASCAR TALK
OK with everything going on in the world of NASCAR the past 7 or so years it seems like it would be a good topic to talk about. My feeling is that they don't race like they used to be. Yeah you have Jeff Gordon and Dale Jr but there is no one that can Race like the Great Richard Petty or even in the same league as the Intimadator. Dale Earnhardt was in a league of his own. He would do anything to win. Not just set back and watch the race and go of nothing he would not be denied a win. I would love for people to disagree. If they were allowed to race all out like they used to there would be no one safe. does any of you out there that has seen any other changes and where the sport is better or Worse.

May the force be with you.
posted by SportsDork36 @ 2:50 PM


Great Sports Movies
I want to get every to give me there top five sports movies of all time. I dont want the name of love stories I want Great Sports moves.

1. Hoosiers
2. Field of Dreams
3. Brian Song
4. Rudy
5. Coach Carter
posted by SportsDork36 @ 2:43 PM


NCAA Basketball Talk.
I know that college basketball does not get started for a couple of months, but I was ready to make some predictions about a couple of teams here in Illinois. MY thoughts and feels is that U of Illinois is going no where with there current head coach. The reason I feel this way is because he has missed out on a ton of recruits. He just cannot sign the blue chip players. His players have been caught doing stupid things and have not been punished. ON the Other side of the table Bradley is going to have a great ball team. The reason I think this is because they have a great coach who is still learning how to coach and is an awesome recruiter who does not cheat to get what he want. He has brought in talent not just from th Peoria region butt it seems like they have been from all over the US. My feeling is the way that Bradley is going they are going to final four before the Illini makes it back. I think Bradley has a better coach and supporting cast. Jim Les is the best coach I have seen in the area for a long time. He has enthusiasm and brings excitement to every game.

May the force be with you.
posted by SportsDork36 @ 12:05 PM


About Me
Name: SportsDork36
Home: IL, United States
About Me: I am a 30 year old sports nut. Think you know more than me, I will prove you wrong! I have a wonderful beautiful wife who I have been with for 8 years, married for almost 4. She is amazing. We have 3 beautiful children who are our world. I work in healthcare in the computer world. I have my associates in computer science, working towards my BS in management. I volunteer my free time as an assistant coach for highschool basketball, hope to be a head coach one day.
See my complete profile
Previous Post
Archives
Links
Template by