Saying goodbye to Hollywood
Saturday, August 18, 2007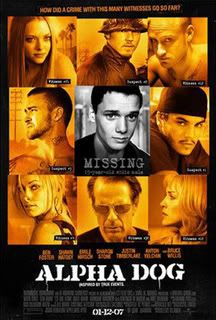 For those of you who have not seen the movie "Alpha Dog" you must rent it. It shows how far some kids will go to be apart of a group. This is a true story and has an excellent cast. Bruce Willis, Sharon Stone, Justin Timberlake and Emile Hirsch do a great job. And surprisingly, Mr. Timberlake himself, is an awesome actor.

Jesse James Hollywood, grew up a good kid and an athlete. His father was the coach of a little league, but also had a side business, selling drugs, which his son, soon followed. At the age of 19, Hollywood, purchased his own $200,000 home with a large cash down payment, owned many expensive cars, and yet had no job. He was a major drug dealer. Hollywood gave his friends pot and had them sell it to the surrounding area and return the profit to him. If they turned up short there would be hell to pay. His crew did whatever he wanted, he was the ring leader, he was the center of their universe, but, Ben Markowitz, wasn't having it. Ben was the "real" bad boy unlike Jesse James Hollywood who was just a wanna be bad boy. Ben came up short 1200 bucks and Hollywood picked a fight. That set of a string of events that changed a lot of peoples lives. Ben and Hollywood went back and forth trashing each others places, fighting, etc, and Hollywood really wanted to put Ben in his place and put an end to it all and show him up. Hollywood and his crew were driving around and seen Ben's younger 15 year old brother walking down the street (he had nothing to do with the drug deal, and had no clue who Hollywood was), so Hollywood and his crew decided to go deeper than Ben and jumped out of the van and beat the crap out of his younger brother and kidnapped him. About a day into the kidnapping, Hollywood got nervous and took off. He left the kid, Nick, with his crew. His crew untied him, Nick was actually enjoying himself, he was partying, playing video games, he met a girl, he had nothing to worry about. The crew kept reassuring him, all his brother had to do was pay the $1200 dollars and he would be free. In the mean time, Hollywood contacted his lawyer, and got the bad news of just how much trouble he was going to be in for kidnapping a kid, by that time, everyone was already looking for Nick. He realized, that he could get longer for kidnapping, than he could for murder. And even if he did let the kid go, how would he keep the kid from talking? He soon made a new plot for his friends, to kill the kid off. Do his friends go through with it?..........I will leave that part a mystery.......

This movie showed how events spiral out of control. It really does happen pretty much step by step (in reality), if you were to do the research on it. What I don't understand is why kids and in this case young adults (20's) feel the need that badly to fit into a crowd? To go as far as kidnapping? And even considering killing someone? Can someone have that much effect on you? And for Nick Markowitz, why would he stay in a situation like that for so long? Was it because he was with the "cool" crowd? I am not really sure if I have put myself into any situations, where I know the outcome would be bad. But I sure in the hell would not of gone this far.

If you are wondering why I titled this blog, "Saying goodbye to Hollywood", at the end of the moving there was a song, "say goodbye to hollywood." And to me it just kind of meant, leave it all behind. No more peer pressure, who cares what everyone else wants. Maybe that is what these kids should have done.

Have you seen the movie? If so what do you think? If you haven't seen it, what do you think, just by reading the blog?
posted by SportsDork36 @ 9:51 PM


About Me
Name: SportsDork36
Home: IL, United States
About Me: I am a 30 year old sports nut. Think you know more than me, I will prove you wrong! I have a wonderful beautiful wife who I have been with for 8 years, married for almost 4. She is amazing. We have 3 beautiful children who are our world. I work in healthcare in the computer world. I have my associates in computer science, working towards my BS in management. I volunteer my free time as an assistant coach for highschool basketball, hope to be a head coach one day.
See my complete profile
Previous Post
Archives
Links
Template by